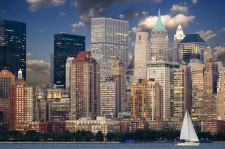 San Diego, CA, July 26, 2016 (Newswire.com) - In the dynamic and changing world in which we live, companies are evolving at a rapid pace. Businesses, especially those that want to be successful, are no longer being run the way they have been for generations.
Working in silos, little connectivity with others and feeling disengaged are all becoming a thing of the past. What was once considered a typical working environment for engineers is taking on new meaning.
By challenging convention, engineers have a huge opportunity to make the world a better place in which to live.

iConnectEngineers™
Jacob Morgan, a speaker and futurist, has referred to this as "challenging convention." Companies are looking at new ways to run their businesses and manage employees.
How does this apply to me as an engineer, you might ask?
By challenging convention, engineers have a huge opportunity to make the world a better place in which to live.
Engineers play a crucial role in solving the problems of the future. In order to achieve success, it will entail looking at work in a new light, taking into consideration the addition of better communications, increased connectivity and more collaboration. Read more on iConnectEngineers.com.
iConnectEngineers™ Services:
Get connected with projects: iConnectEngineers™ provides links to all 50 states with access to government agencies, specific county/city's listings of RFP/RFQ/Bid and CIP information. There are also links to small, medium, and large HUB airports in the United States and their RFP/RFQ/Bid information. A wide range of plans are available. Learn about the 7-Day Free Trial.
Find your next great hire: Become one of the first 20 pioneer members and receive a "free" online Engineering listing in the "Post A Job" section of the website (through August 15, 2016).
Leading-edge solutions: Reach clients, employees and members for your company, organization and association through iConnectEngineers™ digital advertising visionary solutions. Find out how.
eNewsletter: Sign up for inspiration in your inbox with news and events from iConnectEngineers™. Let's Connect. Share. Integrate. Lead.
iConnectEngineers™ is an online platform that fosters collaboration and innovation by connecting professionals with new contract opportunities, business tools, training and more. Our mission is to promote work-life integration, a culture of collaboration, a positive work environment, and a holistic approach when engaging employees to provide a variety of engineering services. The intention is to break down silos, combine and recombine capabilities across disciplines, organizations and generations, and move away from a "fixed" mindset to a "growth" mindset.
Discover iConnectEngineers™ on Social Media:
Facebook: https://www.facebook.com/iconnectengineers
Twitter: https://twitter.com/iconnecteng
Instagram: https://www.instagram.com/iconnectengineers/
LinkedIn: https://www.linkedin.com/company/iconnectengineers
Pinterest: https://www.pinterest.com/iconnecteng/
Google+: https://plus.google.com/+Iconnectengineers
YouTube: https://www.youtube.com/channel/UCtQ0b6-l778gXS0ozlEvVCQ
Media Contact:
Keely Badger, Media Relations
P.O. Box 130904, Carlsbad, CA 92013 | (800) 905-1270 | Email | Website
Source: iConnectEngineers™
Share: